History of Valley Medical Center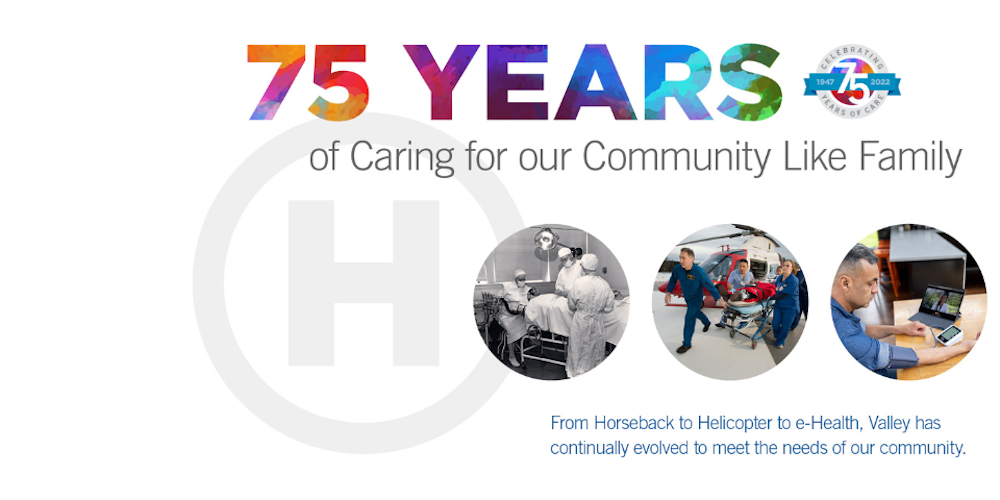 Humble Beginnings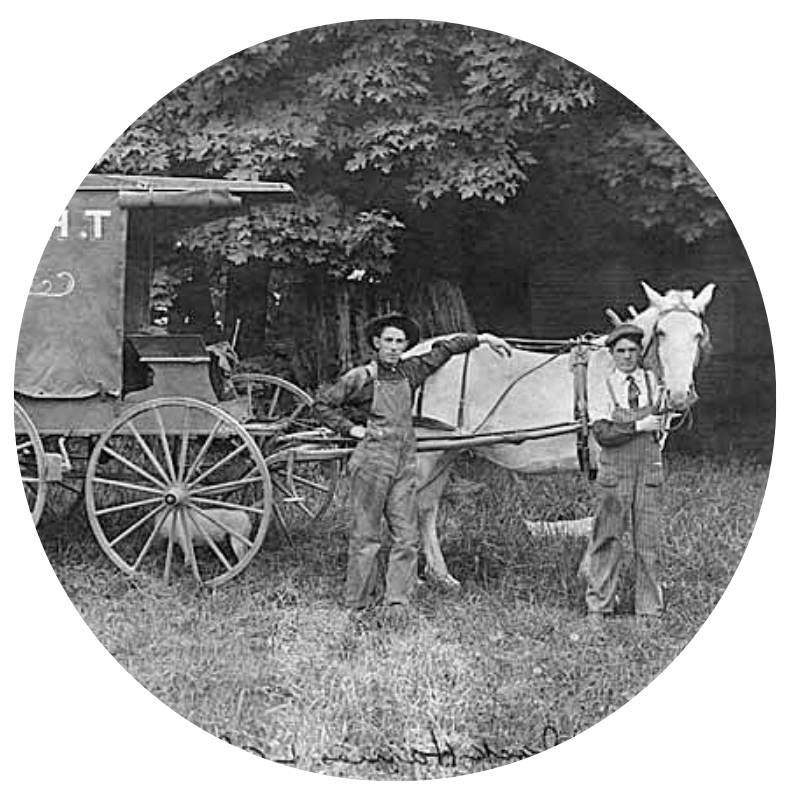 Medical care was a luxury in the early days of Southeast King County. A handful of doctors crossed rivers and mountains—usually on horseback—to reach their far-flung patients. Equipment was scarce and extremely limited. But courage and ingenuity often prevailed in the hands of pioneer physicians, just as they do today. In the late 1800s, most of the medical care in Kent and Renton consisted of emergency services in the coal mines and logging camps.
By 1911, Dr. Adolph Bronson would lay the foundation for caring for the community like family. Norwegian-born and California-trained, Dr. Bronson initially cared for neighbors and residents at his home on Main Street in Renton. In 1911 he constructed the area's first hospital, Bronson Hospital, across the street from his house. For decades, this modest, two-story building served all comers.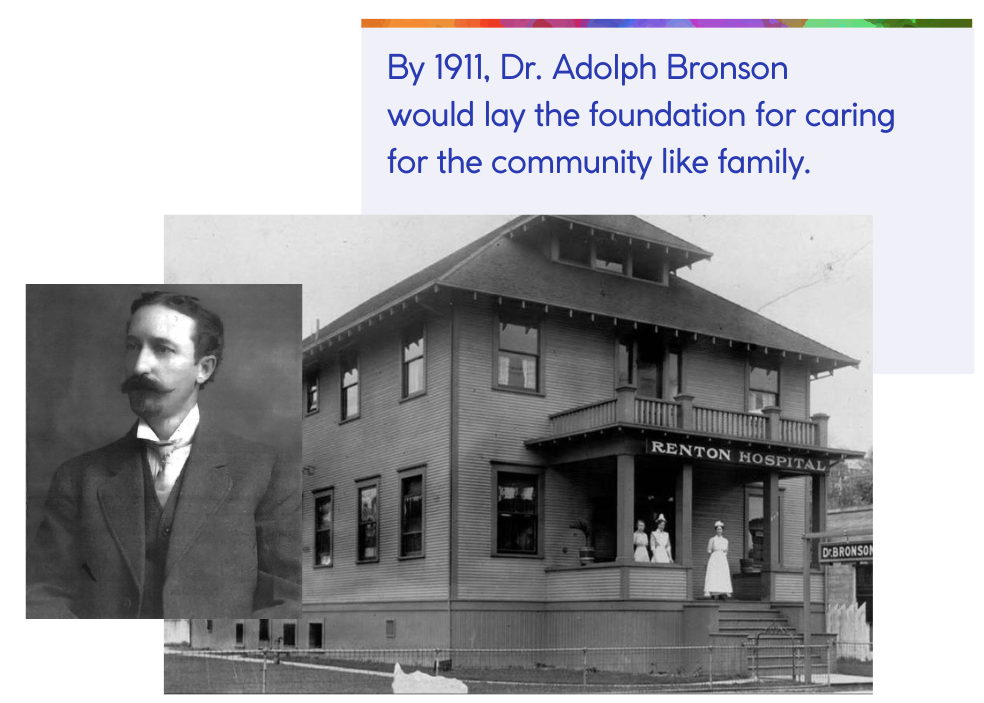 The arrival of nurses was one of the great medical milestones of the time. Living on the second floor of Bronson Hospital, these skilled professionals saw a steady stream of accident victims from the logging camps and coal mines. In addition to accidents, admission records between 1911 and 1938 indicate influenza, pneumonia and childbirth were frequent causes of illness and death.
In the decades that followed, it would take more than exceptional clinical skills to maintain the high-caliber medical care in the region. A single physician and five nurses could no longer meet the growing need for care.
Hub City
During the 1940s Renton's population nearly quadrupled, largely as a result of heightened military operations. Civic leaders, including members of the Renton Chamber of Commerce, leveraged the wartime efforts to build a more modern hospital.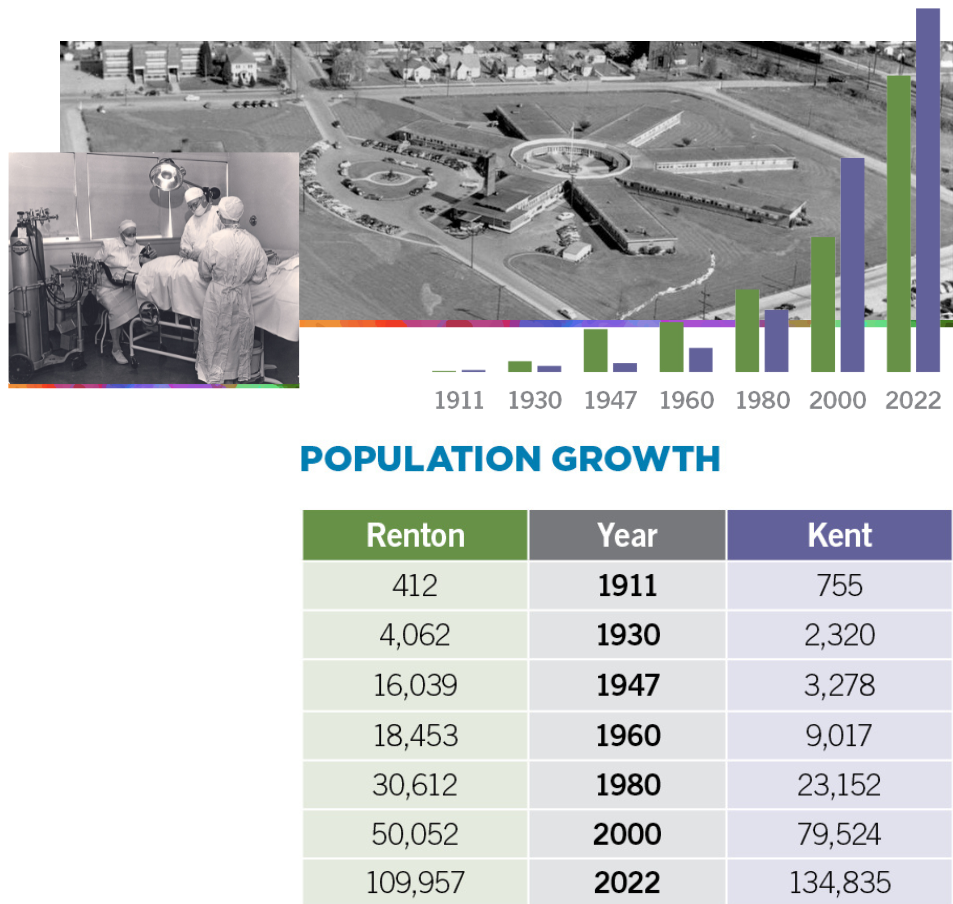 Opened in 1945 on Rainier Avenue at the current site of McLendon Hardware, also formerly Kmart, the brand new Renton Hospital was designed in a unique hub and spoke fashion fondly referred to as the "wagon wheel."
This new, state-of-the-art facility cost $600,000 and was initially intended to be a short-term solution during the war effort.
At the time it was believed the dispersed wagon wheel design may act as a deterrent to potential bombing, however, it turned out to be a very challenging design for efficient patient care. The first patient at Renton Hospital was a Boeing worker who suffered a foot injury and the first baby born was the son of a Boeing engineer.
While federal funds paid for the new hospital, the federal government declined to operate it. Afraid of seeing it close or fall into outside hands, local leaders again stepped forward, this time creating the Valley Hospital Foundation. After a special election, Public Hospital District No. 1 was formally established.
Voters approved a bond issue to purchase Renton Hospital outright, ensuring at long last the community would control its own medical services. Today there are 56 public hospital districts in Washington state and Valley, the first and the largest, was a model for those that followed. In the 1950s and 1960s it became apparent that the wagon wheel hospital built as a temporary solution during WWII was deteriorating quickly and needed a new home. Renton leaders joined with Kent and hatched plans for a new facility in a new location that could stand the test of time.
Healing Vision
In 1965, the hospital's name was changed to Valley General Hospital and its Board commissioned the design of a striking new campus by world-renowned architect, Edward Durrell Stone, celebrated for his work on the Kennedy Center, Metropolitan Museum of Art and the American Embassy in New Delhi. Before it even served its first patient, the Board passed core philosophies that are still reflected in our Caregiver Commitment today fostering prevention, education, equitable care and collaboration.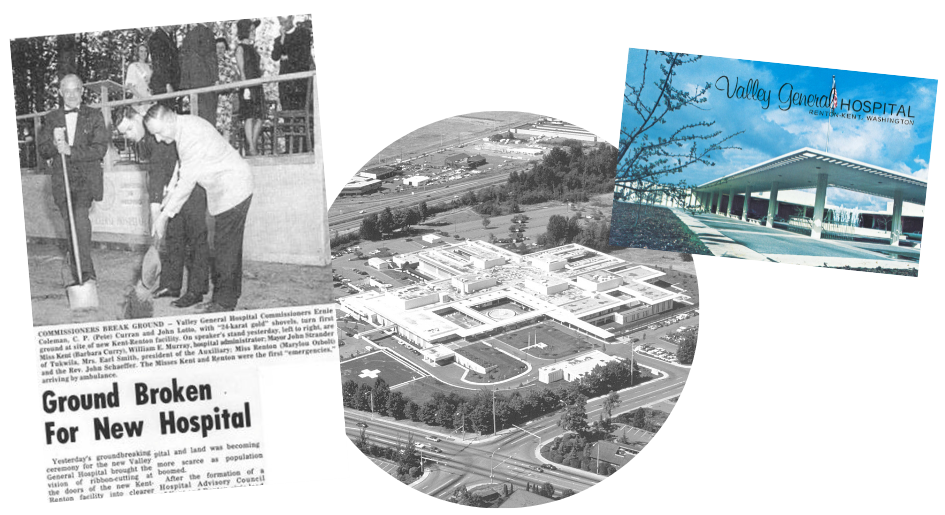 The staff and community had a chance to see a model of the new hospital before passing a $7M bond issue in 1967 and feedback was overwhelmingly enthusiastic. Single rooms, 80 skylights, numerous water features and tranquil outlooks over landscaped gardens were key features of this beautiful, healing space.
The debut of the new Valley General Hospital on 180th Street in November 1969 prompted congratulatory messages from around the nation. Long-time supporter, Senator Warren Magnuson wrote: "No area is more deserving of the newest techniques in medicine and hospital care than your area, which has given the United States so much in the way of new air and space technology."
And the senator wasn't exaggerating. Boeing boomed into the jet and space age with commanding roles in NASA's Apollo space program, lunar rovers, the Supersonic Transport (SST), hydrofoils and many other inventions. The result was an influx of jobs, people and housing. Another Renton company was responsible for one of the icons of the age, the Space Needle. Built as the highlight of the 1962 World's Fair, the structure is supported by steel manufactured at Pacific Care & Foundry, later renamed PACCAR, which also supplied the steel for the World Trade Center.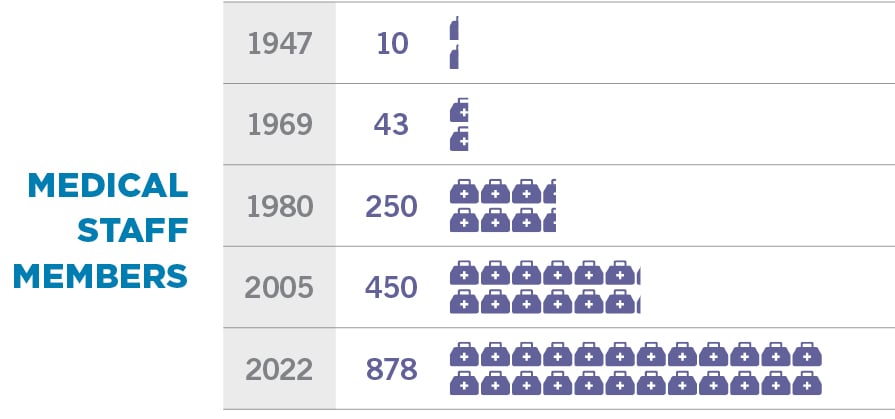 Valley General Hospital offered the latest technology and equipment. Gases and oxygen were piped in. Doctors carried portable radios to eliminate noisy and distracting loudspeakers. Elaborate monitoring systems, closed-circuit TV and security systems were added. The building was air conditioned and fireproofed and featured efficient heating and pneumatic waste disposal systems. Within a year of opening, Valley's medical staff more than quadrupled, from 43 to 184.
Emergency Care Debuts
Emergency Care was provided from Valley's earliest days, but wasn't offered around the clock until 1969. At that same time, prehospital care and emergency response took a giant leap forward with the introduction of paramedics and Medic One. The first class trained at Harborview in 1970 greatly improved survival rates, bringing new life to the term life-saving care.

The advances of prehospital care were further magnified by a key Puget Sound area invention, the portable defibrillator. Intubation to provide an airway and defibrillation to restart the heart were valuable tools not previously available out in the field, dramatically improving emergency care and outcomes. As our community expanded, so did Valley's responsibility and expertise to provide the crucial resources, equipment, training and staff to meet the growing needs.
Unfortunately, by 1972 a national economic downturn plunged the Puget Sound region into a deep recession that lasted most of that decade. Valley weathered the fluctuating economic conditions as it always had with other challenges. Fortunately, at Valley leadership remained very stable.

In fact, since 1947 there have only been four administrators: J.C. Lund, William Murray, Rich Roodman and Valley's first female CEO, Jeannine Erickson Grinnell. By 1984, Valley General Hospital was renamed Valley Medical Center and by 1986, the Valley Family Medicine Residency opened, a community-based graduate medical education program dedicated to training highly qualified family physicians.
Care for the 21st Century
By the turn of the century, the population of South King County had skyrocketed. To meet the growing need for medical services, Valley nearly doubled in size and then kept right on growing.
Key projects to help meet the needs of a rapidly increasing population: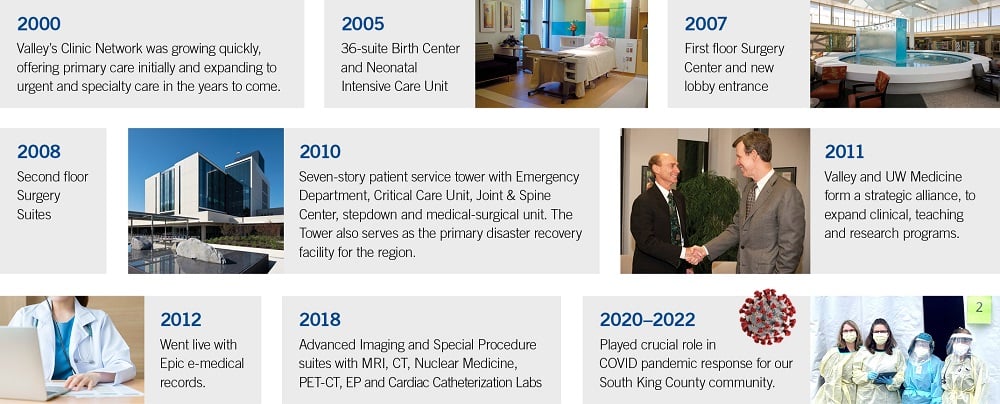 Care for Today & Beyond
The Valley Medical Center Clinic Network is comprised of primary care clinics serving as a medical home for care management, urgent care clinics providing a safety net of after-hours care and walk-in consult and treatment, and more than 50 specialty clinics providing convenient access throughout the district.