Your Partner in Fighting Cancer
Building relationships is a priority for us. With the latest treatments available in your backyard, living with cancer doesn't have to mean living in a hospital or traveling long distances for care. We are proud to have the right doctors and treatment options close to home so our patients and their loved ones can make the most of every single day.
A Multidisciplinary Approach to Cancer Treatment
Caring for our community like family is our priority at Valley and we are proud to provide outstanding clinical cancer care and leading-edge treatment options for our neighbors – close to home. We place an emphasis on prevention, early detection, improved outcomes, reduced side effects and less invasive treatment options. We deliver innovative care and therapies with patient-focused support and guidance. Living with cancer does not have to mean an extended stay in a hospital or traveling long distances for treatment. Our goal is to help our patients to make the most of every single day.
Physicians specializing in medical oncology, radiation oncology, neuro oncology and surgical oncology as well as specially trained nurses and technicians, social workers, physical therapists and nutritionists provide support through each stage of your cancer care. Your multidisciplinary team of board-certified specialists gather regularly to review your case. Should you need more advanced care for a rare or complex diagnosis, you can be assured of quick and effortless access to renowned care at one of our UW Medicine affiliates.
A Focus on Healing
Designed to enhance the comfort of our patients and assure their dignity, our healing environment incorporates restorative natural elements like sunlight and water. Valley Medical Center is also proud to offer a Healing Garden and Serenity Garden, as well as an Inpatient Family Retreat, to provide peace and respite for patients and loved ones.
We also partner with Cancer Lifeline for classes and support groups to help you and your loved ones build strength and understanding, reduce stress and find comfort with others who understand your journey.

Valley Medical Center is accredited With Commendation by the Commission on Cancer as a Community Hospital Comprehensive Cancer Program. Learn more.
Cancer Care
The physicians at the Oncology & Hematology Clinic diagnose, evaluate and provide treatment strategies for patients with cancer and disorders of the blood and bone marrow. Our medical oncologists work to provide best-in-class care and treatment for patients with cancer and work collaboratively to ensure a comprehensive approach to treatment for each patient.
Oncology and Hematology Services
Treating cancer is a collaborative endeavor. Our medical oncologists work closely with surgeons, radiation oncologists, infusion teams and other specialists to help patients understand their diagnosis, create individualized treatment plans, and coordinate and provide effective treatment for patients with:
All types of cancer
Blood-related disorders
Bleeding and coagulation disorders
Blood and marrow disorders, including leukemia, lymphoma and multiple myeloma
Blood and Marrow Disorders
The Oncology and Hematology Clinic is staffed by skilled, experienced medical oncologists and hematologists with expertise in treating:
Iron deficient anemia
Sickle cell anemia
Hemoglobinopathy
Myeloproliferative disorders
Myelodysplasia
Idiopathic Thrombocypenia
Our Physicians
Each Oncology and Hematology physician is board-certified in medical oncology. As a team, they bring extensive experience in research and academic training at distinguished centers including the Mayo Clinic, Yale University, University of Southern California, University of Washington/Fred Hutchinson Cancer Research Center and Seattle Cancer Care Alliance. Several have served as leadership for national and state medical oncology organizations and publish in medical journals. Most importantly, they provide outstanding, compassionate care.
Types of Treatment
Chemotherapy - Treating cancer with drugs.
Hormone therapy - Using hormones as treatment for prostate and breast cancers.
Biological response modifiers - Using special compounds to fight cancer by stimulating the body's immune system
The Breast Center
Working with The Breast Center, Valley Medical Center's state-of-the art breast screening and diagnostic center, we diagnose and evaluate patients whose mammograms have resulted in abnormal findings and treat patients who have been diagnosed with all types and stages of breast cancer.
Infusion and Immunotherapy Center
Oncology and Hematology physicians collaborate closely with Valley Medical Center's Infusion and Immunotherapy Center to treat cancer in a way that successfully brings about remission or prolongs life, while maintaining good quality of life. Therapy programs vary according to each patient's needs.
Radiation Oncology
Valley Medical Center's Radiation Oncology provides patients sophisticated, close-to-home radiation therapy treatment.
Gynecologic Oncology is a medical specialty that offers an integrated approach to the diagnosis and surgery of cancerous and precancerous conditions of the female reproductive system. These include cervical dysplasia and cancer (abnormal Paps smears), ovarian cancer, pelvic masses, postmenopausal bleeding and uterine cancer (uterine sarcoma and endometrial cancer), vaginal cancer and vulvar cancer and hereditary cancer syndromes.
At Valley Medical Center, our gynecologic oncology team will provide you with patient-centered cancer treatment. A gynecologic oncologist, doctor with specialized training in treating gynecologic cancers, will oversee your care from diagnosis to completion of treatment. Our gynecologic oncologists serve as both surgeons and medical oncologists (chemotherapy treatment).
In addition to a gynecologic oncologist, you will have other expert providers making up your treatment team depending on your personalized needs for surgery, chemotherapy, and/or radiation. This may include a radiation oncologist, oncology nurse navigator, research nurse, and genetic counselor.
To learn more, click here.
Your entire breast cancer care team, in one visit, to create a personal care plan for you.
Our breast multidisciplinary clinic (MDC) offers a comprehensive clinic visit with a breast surgeon, radiation oncologist and medical oncologist in one day. This team of healthcare professionals works in collaboration with you to develop a personalized plan of care using nationally-recognized best practice guidelines. A process that might otherwise involve multiple visits is completed in a single day allowing for a more timely start of treatment and providing comprehensive cancer care to you and your family.
Your day at MDC begins with a visit and exam with a breast surgeon. Next, your care will be discussed in a tumor board by our entire team of specialists who will develop your individualized treatment plan. You will then have an opportunity to meet independently with the breast surgeon, radiation oncologist, and medical oncologist to review your results, the recommended treatment options, answer questions, and discuss the next steps. By the conclusion of the MDC visit, you will take home an individualized plan of care.
Our Nurse Navigators will partner with you and your family to offer support, answer questions, assist with scheduling appointments, and coordinating care throughout your cancer journey. Additional resources are available to you and your family through our cancer support services to address any barriers to care, psychosocial and financial support.
Your Breast Cancer Care Team Includes:
| | |
| --- | --- |
| Medical Oncologist | Radiation Oncologist |
| Breast Surgeon | Breast Radiologist |
| Pathologist | Genetic Counselor |
| Social Worker | Lymphedema Specialist |
| Supportive & Palliative Care | Financial Advocates |
| Oncology Nurse Navigator | |
VMC's robotic digital surgery option provides a less invasive cancer surgery alternative with faster recovery times and fewer side effects.
Physicians at Valley Medical Center's Neuroscience Institute treat patients with benign or cancerous tumors of the brain, spinal cord and nerves. Benign nervous system tumors, while not cancerous, may require ongoing treatment.
Learn more about Neuro Oncology.
If you're thinking about genetic testing because cancer runs in your family, or you've had it yourself, you might find it especially important if you or a relative had:
Breast cancer before age 50
Ovarian cancer at any age
Colon cancer before age 50
Endometrial cancer before age 50
Metastatic prostate cancer
Pancreatic cancer
When you first visit us, we'll talk about your health history and your family's. We'll help you understand your own risk of cancer, and we'll go over the benefits and limitations of genetic testing so you can decide if it's right for you. If you have a higher risk of breast cancer, we'll stay in close touch to manage your screenings. If you decide to go ahead with genetic testing the process is simple—it's just a blood test or saliva sample.
Insurance usually covers the cost of consult appointments with genetic counselors. If you have concerns about your insurance plan coverage, we're here to help with all the insurance details before you come in. For patients who choose to go ahead with genetic testing and pay out-of-pocket, it generally costs less than $100.
Click here to view clinic information.
From spacious rooms where family or friends are welcome, to free WiFi, warm blankets, room service and bedside entertainment, it is our goal to provide a healing and relaxing environment. Located on the main floor of Valley Medical Center (3B), the Infusion & Immunotherapy Center offers a wide variety of treatments for cancer.
Click here to learn more.
Our team of radiation oncologists and therapy staff take a holistic approach and are dedicated to providing support and comfort throughout the course of radiation therapy. We offer advanced technologies for the following modalities:
Intensity Modulated Radiation Therapy (IMRT)
Volumetric Modulated Arc Therapy (VMAT)
Image Guided Radiation Therapy (IGRT)
Stereotactic Radiosurgery (SRS)
Stereotactic Body Radiotherapy (SBRT)
Customized treatment plans utilizing Monte Carlo algorithms
High Dose Rate Brachytherapy for Breast and Gynecological cancers (SAVI, Tandem & Ring, Cylinder)
Low Dose Rate Brachytherapy Prostate Seed Implants (Pd-103 and I-125)
Learn more about Radiation Oncology.
Comprehensive, Advanced Breast Cancer Care in Your Community
With the latest treatment available in your backyard, living with cancer doesn't have to mean living in a hospital or traveling long distances for care. We are proud to have the right doctors and treatment options close to home so our patients and their loved ones can make the most of every single day. Learn about breast cancer care at Valley.

Cancer Prevention & Education

Patient & Caregiver Resources
As you begin your cancer care journey, we strongly encourage you to take time for you. Physically. Mentally. Emotionally. After all...your healing is all about YOU. You have not "become" your illness.
It may surprise you that people often express a sense of loss during short or long medical procedures—not physical so much as personal. Medical needs can overwhelm us and impact our outlook on life and how we cope with life's challenges. This is normal.
Medical needs can lead you to think "I don't know myself anymore" or that "I've lost a part of me." Don't worry. Just know it's more misplaced than lost. You'll come to experience many feelings. This is very common, even expected.
At Valley, we walk beside you on this journey. No doubt, treatment rooms and medical procedures will strike you at first as unfamiliar ground. We encourage you to think of them as safe ground—safe for your body, mind and spirit. Behind every machine, therapy, surgery or paperwork is a staff member ready to help guide and support you.
These resources can help you learn how to live your best life with cancer:
Welcome your support network of friends and loved ones to join you on the journey. When going through infusions, chemotherapy, radiation treatments or other medical procedures, there is a tendency to feel alone. It helps to connect to your resources outside the hospital or clinic.
Remember: your family and friends understand you best. They may not understand all your medical care—but they don't have to be medical professionals in order to support you. Let them be there for you to provide comfort, companionship, diversion and yes, even humor.
People close to you often want to help but may not know how. Let them be part of your medical journey. Share how you're feeling and how they can help lighten your load.
At times, it will be beneficial for you to let go of what you cannot change. A good question to ask is "How am I going to handle this?" You may need to find some energy, resources and support. Let your support from loved ones, community, support groups, faith-based organizations or other associations be a part of your cancer care journey.
There are also some helpful tools and practices you may want to consider to help you cope by finding moments of solitude, reflection, inspiration and hope:
Healthy "non-medical" practices like tai chi
Find comfort and solace in nature, learn about the art of "forest bathing"
Deep reflection, contemplation, meditation
Read or listen to inspirational writings or poetry
Try some of your own creative writing or keep a personal journal
Listen to music, old and new
An oncology social worker is available to assist you and your loved ones in addressing the new and complex challenges a diagnosis of cancer can bring. Our oncology social worker is a licensed, master's level social worker with specialized training and experience in assisting people impacted by cancer. Services are available throughout all phases of your cancer care from diagnosis, through treatment and into recovery.
These services are offered at no additional cost as they are considered an important part of your total medical care:
Access information so you can understand your diagnosis and treatment plan.
Cope with your cancer diagnosis and the different emotions you may experience while dealing with cancer and its treatment.
Consider decisions about treatment options in light of other factors in your life, including work, family, personal goals, needs and responsibilities.
Understand and complete durable power of attorney (DPOA) and advanced directives.
Understand social security, disability benefits and medical insurance.
Get information about, and apply for, programs and services in your local community and nationally that may be able to help during this time.
The oncology social worker can offer you:
Counseling for you and your loved ones, to address issues related to your cancer diagnosis and deal with things such as depression, anxiety, stress, the effects of cancer on the family and relationships, etc.
Referrals to community-based counseling as needed.
Support groups and educational programs for you and your caregivers.
Support, education and referrals for parents or caregivers of minor children regarding how to best support children when a loved one has cancer.
Information about and referrals to community resources for help with financial concerns, housing concerns, food assistance, transportation issues, etc.
Information about, and referral to, cancer-related information and service organizations.
Resources and education related to workplace issues and schooling.
Resources to help you cope with common treatment side effects.
The oncology social worker can teach you about:
Talking effectively with your treatment team members to get the care you want.
Talking with your children, family, friends and co-workers about your cancer diagnosis and treatments.
Coping with your emotions, such as sadness, anger, grief, and worry or fear.
Reducing stress and using relaxation skills, such as guided imagery, progressive muscle relaxation, etc.
How cancer can affect sexuality, intimacy, fertility, and general feelings about your body and appearance.
Living with cancer; issues commonly experienced and resources to help you.
Planning for your care with the use of advance directives.
Dealing with transitions during and after treatment and life as a cancer survivor.
The oncology social worker can help you access:
Affordable medical care and prescription drug coverage
Prescription drug assistance programs
Financial assistance programs and help with daily living needs
Transportation to and from medical care
Referrals for help at home, home health care and hospice care
Assistance with durable medical equipment, such as a cane or walker, is available by calling 425.690.6066 or by asking one of your healthcare team members to make a referral to Cancer Support Services.
American Cancer Society
American Cancer Society Online Resources
1.800.237.2345
A nationwide, community-based volunteer health organization dedicated to eliminating cancer as a major health problem by preventing cancer, saving lives, and diminishing suffering from cancer, through research, education, advocacy, and service.


CancerCare
CancerCare Online Resources
CancerCare is a national organization committed to helping people cope with the emotional, practical and financial challenges of cancer. CancerCare's comprehensive network of services includes telephone, online and in-person counseling and support groups, education, publications, resources and financial and co-payment assistance. All CancerCare services are provided by professional oncology social workers and are completely free of charge.

Cancer Lifeline
Cancer Lifeline Online Resources
24/7 Helpline: 206.297.2500 or 800.255.5505
Cancer Lifeline is a local cancer organization that provides emotional support, resources, educational classes, artistic expression and exercise support programs for people living with cancer. Patients, survivors, their families, friends, co-workers and caregivers are all welcome. Services are offered free of charge virtually and throughout the Puget Sound area.
View list of Cancer Lifeline's current classes and support programs.

Cancer Pathways
Cancer Pathways offers a broad, community-based program of social, emotional, and educational support for cancer survivors and their loved ones. The program serves everyone touched by cancer across the cancer continuum—from diagnosis, through treatment and post-treatment, survivorship, and bereavement, including children, teens, and entire families.
Cancer Resource Center at Valley
Cancer Resource Center
425.690.3507
Hours: Monday through Friday, 10 AM to 4 PM
COVID NOTICE: The Cancer Resource Center is currently closed for in-person visits. Please call for assistance.
Friendly volunteers provide the following free services for cancer patients and their loved ones:
Information on cancer and treatment
Referrals to and information on local resources, educational programs and support
Personal Health Manager Kits
Free wigs, hats and scarves for people experiencing hair loss due to cancer treatment

Caringbridge
CaringBridge.org uses the power of the Internet to bring patients, caregivers, family and friends together to share information and support during life-changing health events such as cancer, premature birth, critical illness and serious accidents. CaringBridge is free and is a meaningful way to help friends and family from around the world stay connected and informed. Patients and caregivers post journal entries about their healthcare journey and in return, family and friends provide vital support through guestbook messages and a photo gallery.
Create your own CaringBridge page today. It's quick, easy and free. Click here to get started!


Financial Counseling & Assistance
The financial impacts of a cancer diagnosis can be significant. Our team is here to help you navigate the many billing and insurance questions you may have.
In addition, our financial advocates provide financial help and options and can assist with setting up payment plans and evaluating discount, charity care and public assistance options.
CancerCare may offer other financial assistance options.

National Cancer Institute
National Cancer Institute Online Resources
Live Help Instant Online Chat available Monday-Friday, 6AM-6PM PT
NCI Cancer Information Line: 1.800.422.6237 (English and Spanish)
NCI provides comprehensive information about cancer causes and prevention, screening and diagnosis, treatment and survivorship; clinical trials; statistics; and the institute and its programs.

Transportation
Transportation resources to and from medical appointments are available within the community. Please contact the Cancer Resource Center at 425.690.3507 or our Oncology Social Workers for assistance at 425.690.6066.

Additional Online Resources
Bringing HOPE and Support to Valley Cancer Patients
At Valley, we walk beside our patients and their loved ones as they embark on the cancer care journey. The journey is not just a physical one, it is also emotional, mental and tremendously personal for each person it touches. Diagnosis and treatment can be overwhelming and we are dedicated to providing wrap-around support resources that comfort the body, mind and spirit.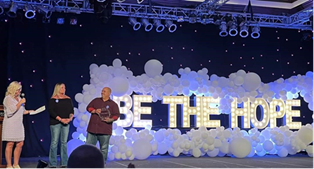 In partnership with Valley Girls & Guys, a local group passionate about being the HOPE for those impacted by cancer, we unite patients, loved ones and caregivers in the quest to provide support and resources for those most in need. Our HOPE Patient Assistance Fund, for example, helps cover living expenses many cancer patients struggle with, like rent or gas to get to treatment. Our acute symptom management program cares for patients undergoing treatment to help keep them out of the ER and healing at home. And our Cancer Resource Cart at Valley has been named after two outstanding Valley Girls & Guys team members – Trapper & Samantha – who were impacted by the care received at Valley and who dedicated their time, creativity and funds to support Valley.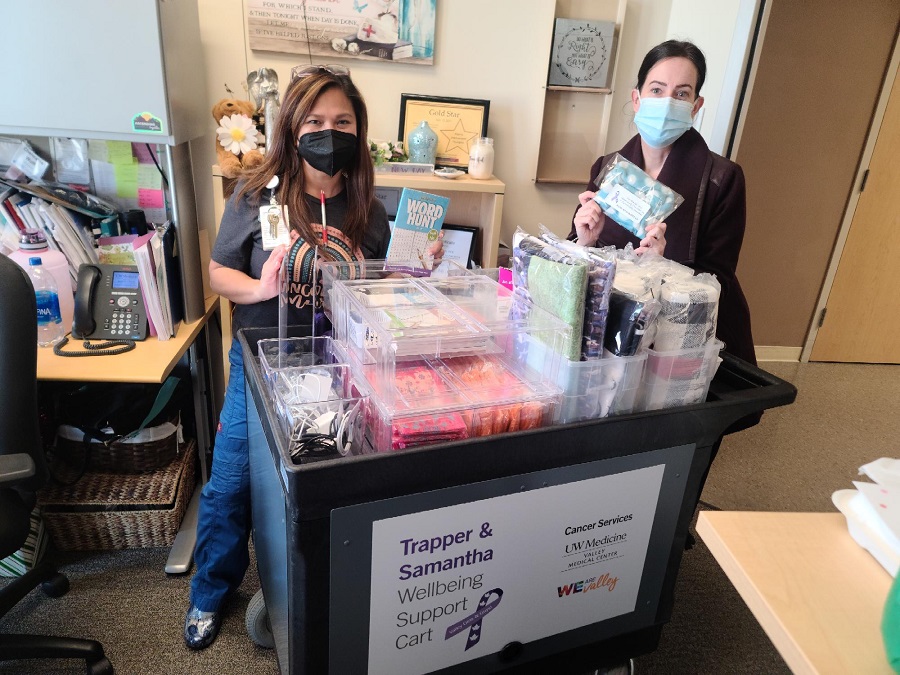 Through the Trapper & Samantha Wellbeing Support Cart, we are able to bring free resources to our cancer patients to help them and their loved ones learn how to live their best lives with cancer. Operated by Valley volunteers, the cart regularly travels through the Infusion Center, providing patients with comfort items and information to make their cancer journey just a bit easier. Whether a handmade hat or a cozy blanket donated by the community, comfy socks, a loaner charging cord, a crossword or sudoku book, comfort items help patients pass the time through their treatment. And information on Valley's oncology social work team, wig program, transportation resources, and Cancer Lifeline information is also close at hand for patients needing those resources.
We are so appreciative of Valley Girls & Guys and Trapper & Samantha for the support, the caring, the love and THE HOPE that you share with us, and through us, with our community. THANK YOU!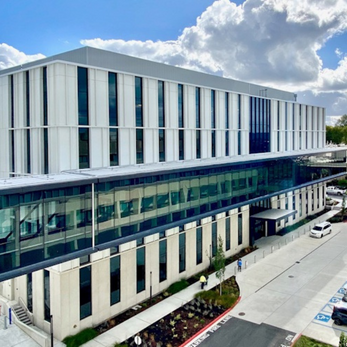 NEW Cancer Center - Coming Soon!
Janee's Story
Not long after having a clear mammogram, Janee noticed a lump had formed in her breast. After talking with her family, she decided to get it checked by her doctor a Valley Medical Center. Sure enough, it was breast cancer.

Classes & Events
Explore Classes & Events

Health Blog
Learn More

Make an appointment
Learn More