Our Journey Toward Health Equity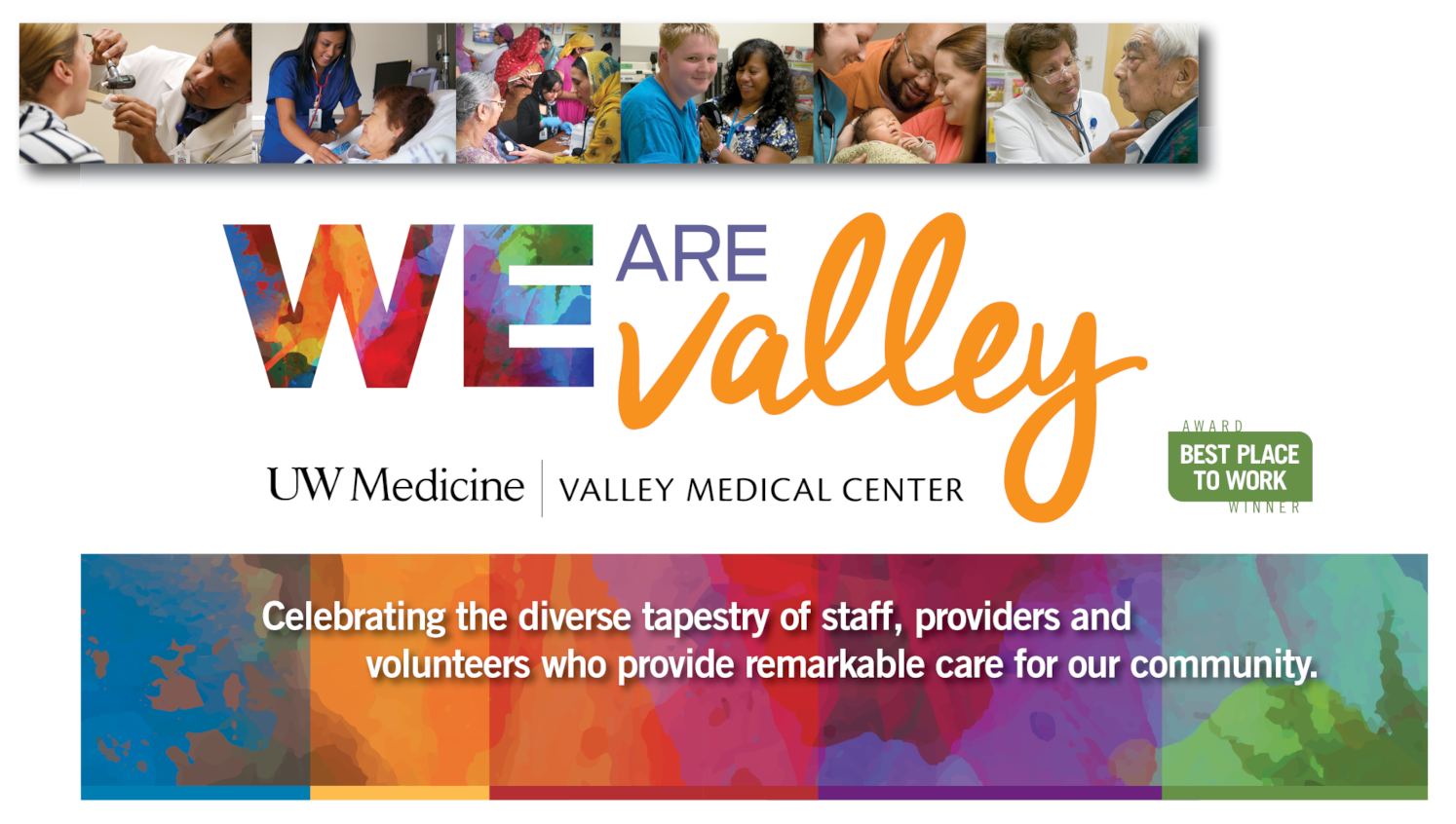 Bringing you world-class care from around the globe, Valley Medical Center truly is a tapestry of diversity and individuality.
At Valley Medical Center, we are proud to have an amazingly diverse team of professionals dedicated to providing remarkable care for our patients and their families. Our hospital district services residents speaking nearly 90 different languages, so we actively seek diversity in our staff to best care for our patients and families. Cultural diversity isn't just about differences in dress and language—it encompasses different ways of thinking, managing and communicating. Diversity is about learning from others with various experiences and backgrounds, providing support and respect to those with both similar and different experiences, and creating an encouraging workplace that welcomes new opinions.
Improving our culture of healthcare equity
Valley celebrates the diversity of our staff and community and recognizes it is vital to create a culture of equity that positively impacts the health and well-being of those we serve. We set bones, we mend hearts, we prevent disease, we bring people back from the brink of death and back to their families, and sometimes we help them say good-bye. We also recognize the systemic and institutional racism that is part of the very fabric of American culture. As caregivers, we hold an enormous responsibility to lead by example as our service area is home to the most diverse population in Washington state. We take this responsibility seriously and strive to become an anti-racist organization. In collaboration with UW Medicine, we ask each of our caregivers and each person in our community to challenge the personal biases that exist within ourselves, to be an ambassador for equity for the diverse populations we serve and employ, and care for all in our community like family.
Pledge from senior leadership
Valley's senior leadership, in collaboration with the Equity, Diversity & Inclusion Committee, have pledged to work toward becoming an anti-racist organization to help build a better future for the Black, Indigenous and People of Color (BIPOC) members of our community who we employ, provide care for and those whom we need to build trust with to be able to provide care. This pledge includes eliminating systemic discrimination against people of color, LGBTQ+ communities and other marginalized populations we serve in our diverse community. WE stand together. WE stand strong. WE are Valley.
What are we doing at Valley?
Caregiver Commitment: Each Valley employee signs an annual pledge to uphold Valley's mission, vision, values and commitment, which includes treating all with respect, compassion and in a way that meets their needs.
Caregiver Affinity & Learning Groups: Five affinity groups—Black, Indigenous, People of Color Affinity Group; White EDI Advocacy Learning Group; Mental Health Affinity Group; United EDI Advocacy Learning Group; and LGBTQIA+ Affinity Group-- meet for monthly conversations to identify areas for improvement toward becoming a more inclusive, equitable, and safe place to work and receive care for ALL at Valley. Our affinity group goals are to educate ourselves and each other about discrimination; build a common language toolkit so we can safely and effectively discuss discrimination; learn and practice skills to confront discriminatory behavior in the workplace and in our personal lives.

Leadership & Staff Training: Valley's leadership teams are identifying areas for improvement regarding systemic racism, prejudice, discrimination, and other barriers for underrepresented or underserved communities. As we identify areas of greatest need, training programs are implemented to meet these needs and train both leadership and staff.
Patient Family Advisory Council (PFAC): PFAC partners patients and families with members of Valley's healthcare team to provide guidance on how to improve the patient and family experience. As part of this PFAC process, patients and families are invited to serve on hospital committees. This helps ensure the consumer's point of view and perspectives are not only heard, but also integrated into the service and quality improvements engineered to ensure high-quality, patient-centered care.
Equity, Diversity & Inclusion: Press Releases & Community News Links